The wakeskate champion, Brian Grubb, used to drone equipped with a battery as powerful as smartphones put together, to ride down the Sava Bohinjka River, in Slovenia.
Brian Grubb is unstoppable, followed by the RedBull cameras. For 15 years Grubb has been one of the leaders of this sport. Along with his board he has been to some incredible places on the planet passing through vulcanic deserts and the cape code icebergs. Although the Hidan Valley was going to be one of the biggest challenges of his career .. After the snow streams in Sarajevo, the Filipino rice fields and the Wadi Al-Hidan Canyon, it is pulled by a drone in Slovenia that we find the pioneer of the wakeskate!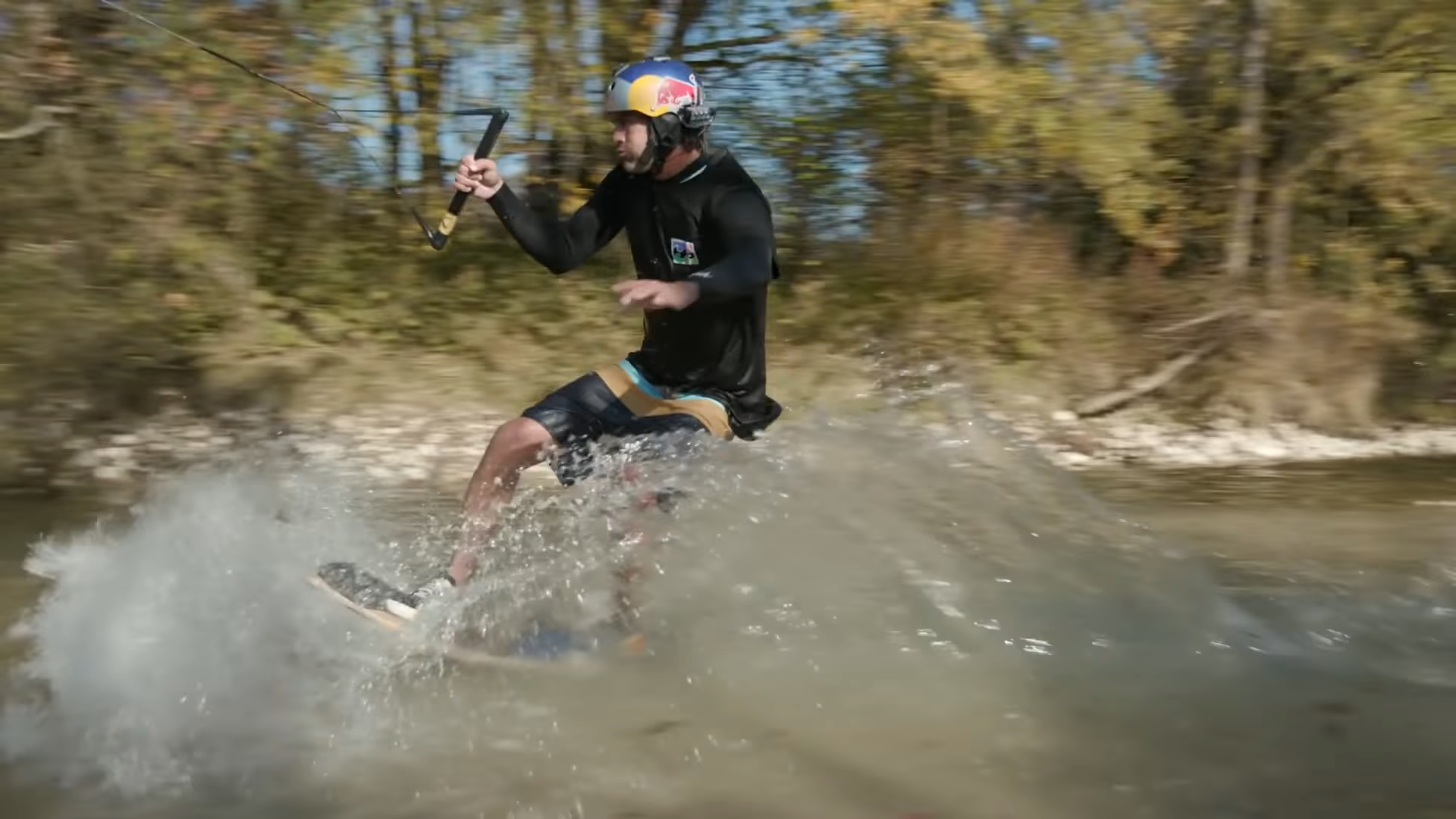 When it comes to the evolution of his sport, Brian Grubb is a true pioneer. In recent years the skillset of a Champion and the passion of an Explorer have taken the American to a number of truly unique locations all over the World.
Brian Grubb is always looking to innovate in wakeskating and is famous for stunning projects like wakeskating at the historical Cleopatra Pool in Turkey. Now the American took the sport to new territory with his drone tow ride down the Sava Bohinjka River, in Slovenia.
Teamed up with Infineon Technologies this time around, the New Hampshire native finally realized a dream he has had for years about taking wakeskating into the future with technology, to get an electric-powered quadcopter drone built that would be able to tow him down the idyllic crystal clear Alpine river, which flows deep in the mountains of Slovenia. The German company delivered a safe and reliable flying machine with a battery as powerful as 158 smartphones put together (1,5 kWh / 51,8 V / 30 Ah) and rotor blades stretching 80 centimeters in diameter.
While majority of his past endeavours pushed the sport of Wakeskating mostly in terms of never before ridden waters and tricks, it was during his latest project when Brian has broken new grounds by acquiring help of a Drone. The impressive 24-kilogram machine could tow Grubb for 10 minutes straight and could even lift him in the air if needed with the 38-year-old completing a world first winch-to-drone handle pass as part of the project.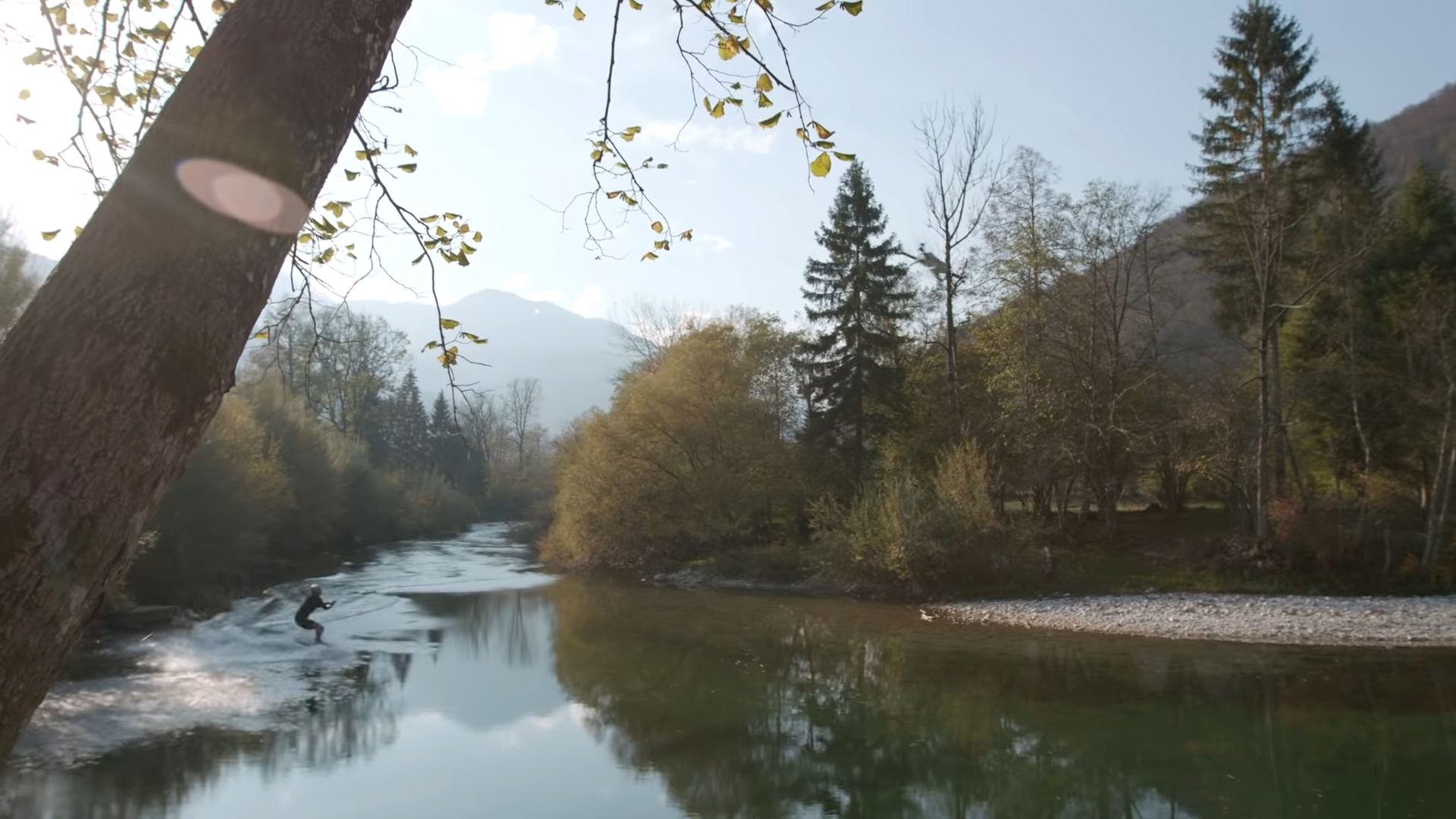 Using an electric-powered quadcopter as his tow vehicle, Brian was able to take his sport to places, previously considered unrideable. The Wakeskate Champion chose to make his maiden Drone ride on Sava Bohinjka — a crystal clear Alpine River, flowing deep in the mountains of Slovenia. With Sava's flow being way too curved to set up a winch, its water level way to shallow to use a boat and its environment way to pure for anything fossil-fuel powered, the river proved to be the perfect setting for exploring new dimensions of Wakeskating.
After arriving on an electric-powered Harley Davidson motorbike, Grubb performed a series of daring maneuvers behind the drone which is a game changer in terms of navigating shallow water, remote locations and leaving a small footprint on the environment.
"Skimming across the surface of a beautiful river, handle-passing from winch to drone on the go, tricking nice little wooden features and flying the drone under a bridge feels pretty damn good," expressed Brian Grubb.
It might not seem obvious at first glance, but Drone-powered Wakeskating is a true team sport. Before Brian could even try out his latest form of transportation, it had taken a group of engineers and pilots from Infineon months to perfect the Drone itself.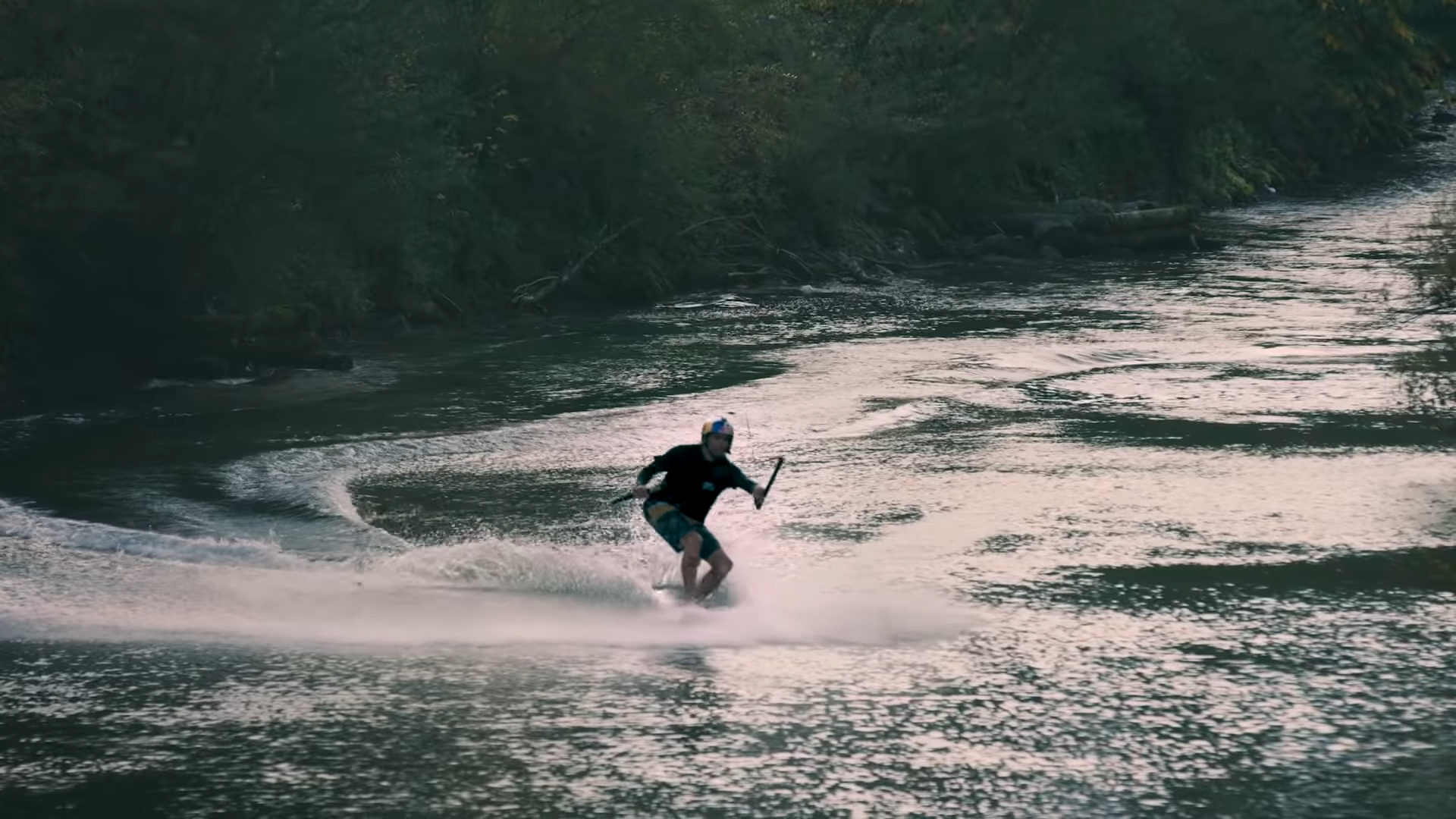 Once the team was dialled Brian and the pilots were able to push the sports of Wakeskating and Drone Flying by riding/flying in ways never seen before. Brian succeeded in completing a winch-to-drone handle pass and the pilot might just became the first Drone operator who has successfully flown under a four-metre high bridge while towing a human being.
"It tastes even sweeter when you know your good times are not harming the beautiful surroundings."
In addition to enjoying the talent of Grubb, in this video you can delitarte with the most dazzling natural beauties