Surfers on the beach of Laga (Ibarrangelu). The beach of Laga is not urbanized. It is 574 m long and 110 m wide. Its surface is 138,499 m2 at low tide and 42,499 m2 at high tide.
The sand of Laga is medium-grained and golden in color, formed largely by remains of the shells of marine invertebrates. Located in the Urdaibai reserve and under the rock of Cabo de Ogoño (279 m). It limits to the north with the Cantabrian Sea in the Bay of Biscay, to the east with the aforementioned Ogoño in the municipality of Elanchove and to the south and west with Lastarria and Anzoras neighborhoods of Ibarrangelua.
———————————
The beach, 574 meters long, is open to the sea. It is the preferred beach for surfers from Gernika and neighboring towns. The waves of cession are short and lively, both left and right. Most of the people are concentrated in the East. The beach needs sea of baga-west, with waves of up to two meters. It has a surf club and school. Laga beach is located in the Urdaibai Biosphere Reserve itself and next to Cape Ogoño (279 m), in the municipality of Ibarrangelu.
It is one of the most beautiful beaches on the Biscayan coast. The landscape is formed by dutas of thin, golden sand.
——————————–
Petite session de surf sur le spot de la plage de Laga in Euskadi. Un spot paradisiaque, enclavé dans la Réserve de la Biosphère de Urdaibai et proche du cap d'Ogoño (279 m), appartient à la commune d'Ibarrangelu. . Les vagues de Laga sont courtes et intenses, pointes de gauches et de droites. La zone est de la plage est la plus fréquentée. Il faut un swell moyen direction ouest pour commencer à fonctionner. Elle peut supporter jusqu'à deux mètres. Laga dispose d'un club de surf et d'une école.
http://surf-tv.eus Report HD ©Euskadi Surf TV – November 12, 2022
© ESTV Euskadi Surf TV | Euskal web Telebista / HD et 4K
by ©TV Quiberón 24/7 ®
Summary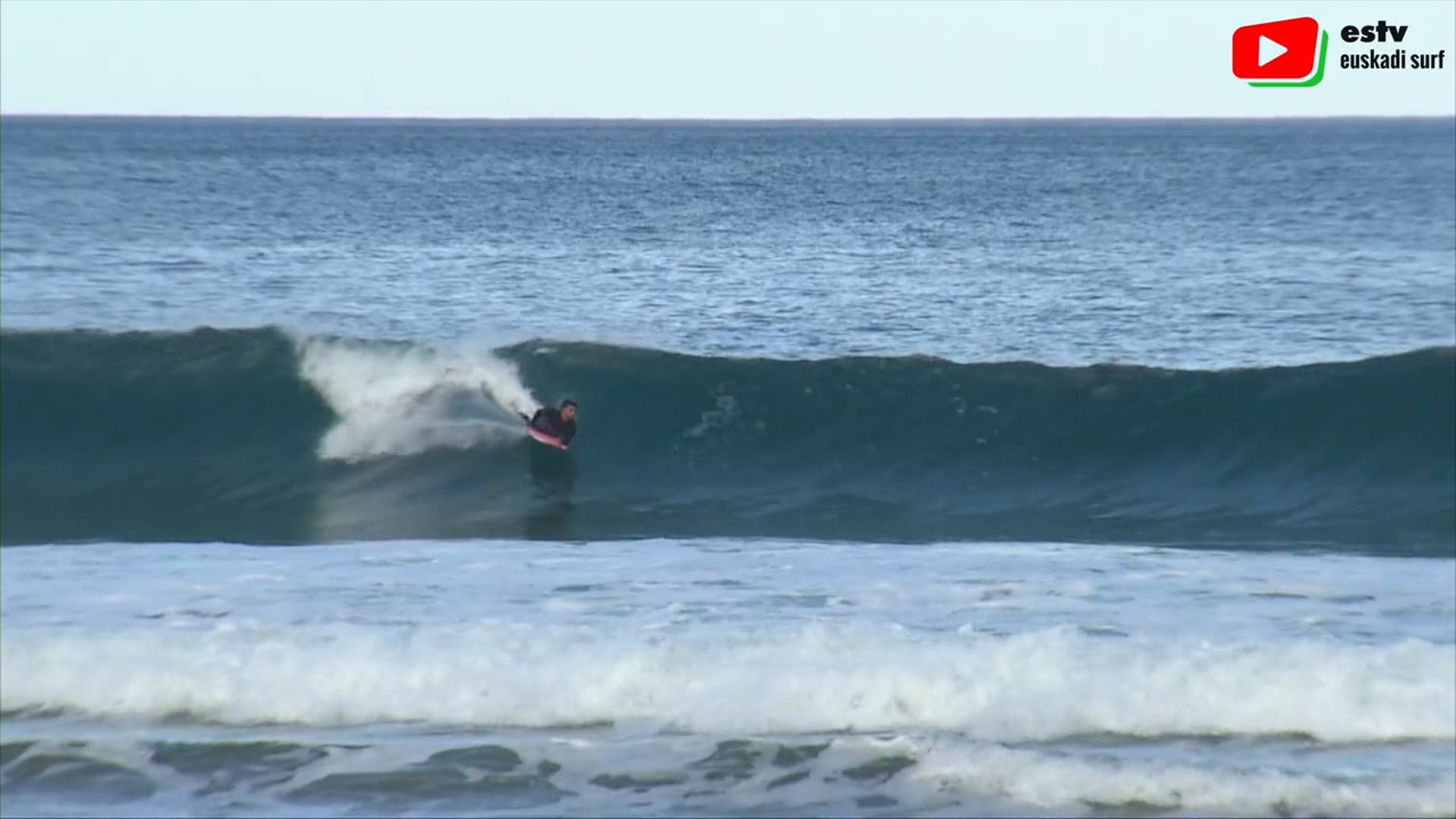 Title
Laga | Surfers on the beach | ESTV Euskadi Surf TV
Description
Surfers on the beach of Laga (Ibarrangelu). The beach of Laga is not urbanized. It is 574 m long and 110 m wide. Its surface is 138,499 m2 at low tide and 42,499 m2 at high tide. The sand of Laga is medium-grained and golden in color, formed largely by remains of the shells of marine invertebrates. Located in the Urdaibai reserve and under the rock of Cabo de Ogoño (279 m). It limits to the north with the Cantabrian Sea in the Bay of Biscay, to the east with the aforementioned Ogoño in the municipality of Elanchove and to the south and west with Lastarria and Anzoras neighborhoods of Ibarrangelua. --------------------------------- The beach, 574 meters long, is open to the sea. It is the preferred beach for surfers from Gernika and neighboring towns. The waves of cession are short and lively, both left and right. Most of the people are concentrated in the East. The beach needs sea of baga-west, with waves of up to two meters. It has a surf club and school. Laga beach is located in the Urdaibai Biosphere Reserve itself and next to Cape Ogoño (279 m), in the municipality of Ibarrangelu. It is one of the most beautiful beaches on the Biscayan coast. The landscape is formed by dutas of thin, golden sand. -------------------------------- Petite session de surf sur le spot de la plage de Laga in Euskadi. Un spot paradisiaque, enclavé dans la Réserve de la Biosphère de Urdaibai et proche du cap d'Ogoño (279 m), appartient à la commune d'Ibarrangelu. . Les vagues de Laga sont courtes et intenses, pointes de gauches et de droites. La zone est de la plage est la plus fréquentée. Il faut un swell moyen direction ouest pour commencer à fonctionner. Elle peut supporter jusqu'à deux mètres. Laga dispose d'un club de surf et d'une école. http://surf-tv.eus Report HD ©Euskadi Surf TV - November 12, 2022 © ESTV Euskadi Surf TV | Euskal web Telebista / HD et 4K by ©TV Quiberón 24/7 ®